The Poet and the Poem
2021-22 Series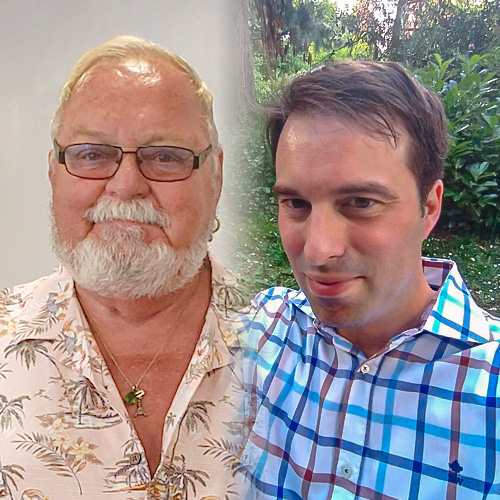 Featured Richard Harteis & Tom Veys
Click here for Richard Harteis & Tom Veys podcast.mp3
Poet and novelist Richard Harteis is the President of the William Meredith Foundation and directs Poets Choice Publishing House. He served for two years as a Peace Corps volunteer in Tunisia, worked as a physician assistant in North Africa and Asia and spent a Fulbright year as writer-in-residence at the American University in Bulgaria. At the end of that year, he was accorded Bulgarian citizenship by decree of the President and Parliament in 1996. He has written 14 books of prose and poetry and edited and introduced 12 books with publishers here and abroad. In 2019, he received a fifth award for his screenplay, COMES LOVE which is scheduled for production by the Hollywood Dreams Film Festival directors.
TOM VEYS studied languages at the Catholic University in Leuven (Belgium). During his study, he was very interested in literary subjects. Later, he became for several years a secondary school teacher in Roeselare (Belgium). Since 2006 Tom has been writing poems, largely dealing with his work as a visual artist. In 2008 he was invited to the Summer Poetry Festival in Struga, Macedonia where he met Richard Harteis. Tom Veys attends classes in Graphic Art and Printmaking at the Academy of Arts in Roeselare where he lives. His parents, grandparents, and great grandparents have been in the printing business for generations. This aspect of literary works remains very important to him.
As a translator he is interested in conveying the meaning of the poem, as well as the beauty of the language and the formal elements found therein.
---