The Poet and the Poem 2020-21 Series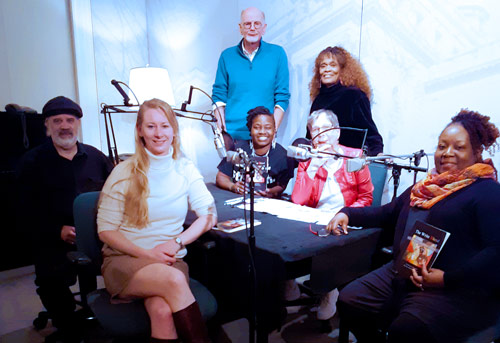 Featured the Write Blend Poetry Collective
Click here for Write Blend Poetry Collective.mp3
Photo: The Write Blend Poets on-air, L to R: Clifford Bernier, Liz Reitzig, Diane Wilbon Parks, (Grace Cavalieri,) Miss "Kiane" Thomas. Standing: Dr. Hiram Larew and Billye O'Kera.
The Write Blend Poetry Circle was officially formed in 2018, when six named poets agreed to become part of a larger collaborative to bring cultural diversity to communities through an expansive range of their voices and poetry.
Bios:
Diane Wilbon Parks: A visual, center-line poet, who has published two collections of poetry and has read widely as a featured poet. Founder of The Write Blend, and most recently, celebrated a permanent installment of a poem with artwork at the Patuxent Research Refuge at the North Tract.
Liz Reitzig: An internationally recognized food justice leader and specialist, Liz has recently presented her memory- and nature-infused poetry at readings throughout the County. She's a mother to five children and lives in Prince George's County with her family.
Clifford Bernier: Mr. Bernier is the author of two poetry chapbooks, Earth Suite and Dark Berries, Mr. Bernier has been featured in readings from Los Angeles to Washington, DC and has been nominated for two Pushcart Prizes and a Best of the Net Award.
Miss "Kiane" Thomas: (Dinahsta Thomas) is an author, performer, facilitator, social worker and entrepreneur. New York born, Miss Kiane has spent the last 14 years in the District of Columbia, spreading hope, healing and social change through her poetry business, Kiane Ink Healing in the Pen, LLC and her most recent venture The InkWELL, a non-profit committed to providing cathartic writing programming for vulnerable populations.
Dr. Hiram Larew: Larew's fourth collection, Undone, was issued in 2018 by FootHills Publishing. On Facebook at Hiram Larew, Poet and
at PoetryXHunger.com.
Billye Okera: (Born Evette Billye Epps) has been a poet since the age of 16. In 1968, her first poem, "Yet I Live" won honorable mention in the DC Public School-wide Gerry Poetry Contest. For fifteen years she was a co-founder and member of "Collective Voices" a poetry ensemble known throughout the DMV. She is the author of two books of poetry, "The Mourners' Bench, and Other Stations of Weeping and Joy", and "The Days of Me and God". Billye is a noted folk-performance poet, and is author of two plays, "The Mourners' Bench" and "Stages" (2003, 2004). She's the mother of three and grandmother of eight and resides in Ft. Washington, MD.
---